At Amberly Village Veterinary Hospital in Cary, it's not just our mission to provide you with a service. Our hope is to form a strong bond with the community and be a supportive partner for you and your pets. Healing wounds, mending illnesses, and improving lives is all in a day's work for us.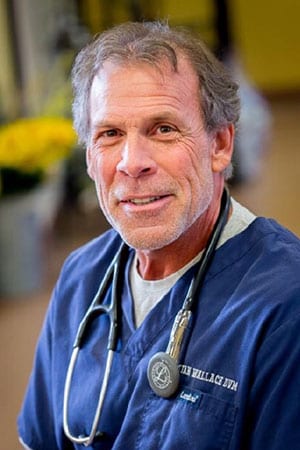 How do you sum up 37 years of practice? That's easy. I love what I do. Still have the passion and drive to help people and their pets. The pet-parent bond is something special. Something strong. Something incredibly strong. And I'm very fortunate to play a role in that. I can help extend that connection by providing good medical decisions and giving sound medical advice. My role... keep the bond going... with a high quality of life... for as long as possible. I am very lucky.
Hometown: Jefferson City, Missouri
Education: Bachelor of Science – Southwest Missouri State University | Doctor of Veterinary Medicine – University of Missouri
I am a vet because: I had no choice. I got bit by the "vet bug" at 16 while working in my first pet hospital—cleaning cages!
My favorite part of the work day: The end of the workday, when the white lab coat gets placed on its hanger... shows all the rewarding events of the day. A nice collection of dirty paw prints, lots of slobber from wet kisses, and clumps of hair from happy wagging tails. Makes me smile... life is good!
What inspires me: Good pet owners who want the very best care for their pets... and a medium well-done bacon cheeseburger with fries.
The pet I will never forget: Precious, an 18-year old Cocker Spaniel that I had the privilege of caring for in her last 6 years of life. A pet who survived a life-threatening dog fight with 6 weeks of intensive care involving multiple surgeries to save her life. She was abandoned by her owner at the end of this whole ordeal and eventually took her rightful spot on the couch in my living room! Miss you, Precious.
I could not do my job without: Two things: the unending dedication of all the veterinary staff members I have had the honor of working with... and my family—what a high standard of compassion and caring they set! Unbelievably giving people.
Things I value most: Gaining the trust of pet owners, and the relationship I have with my family. So lucky.
Things people don't know about me: My secret life as a wannabe musician. Playing my French horn over the years is my hidden passion. Love to play that horn; sometimes good, sometimes scary.
I relax by: Weight training and long walks on the beach with Jan and Luke, our Golden Retriever, then finding the bottom of a beach chair.